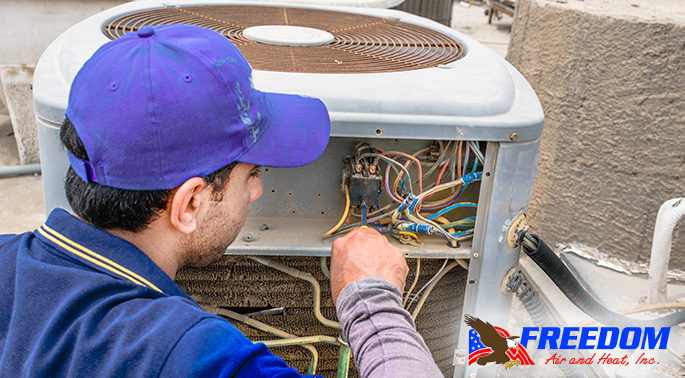 Since there are so many different service providers that all like to tout how they are more reliable and trustworthy than the "other guys," how are you supposed to really know the differences? It's hard! But there is one thing that you should keep an eye out for when searching for the right provider: NATE certification.
What is NATE certification? For starters, it's not a certification that someone named Nate just decided to give out. But read on, and the HVAC experts at Freedom Air will help explain why this magic certification is what you should always be on the lookout for.
A Difficult Problem – With a Simple Fix
A few decades ago, there was a serious problem in the HVAC-servicing industry. The quality of the jobs technicians performed was declining, and there were serious concerns that many of the people responsible for servicing these units didn't have the necessary experience and knowledge to do their jobs adequately. So, in 1997, they created a solution. After a bunch of organizing and restructuring, North American Technician Excellence (or NATE) tests were being handed out. And ever since, this metric has been used as a standard to determine which technicians were distinguishable from the rest.
What Does Being NATE-Certified Require?
To achieve NATE certification, an HVAC technician has to pass a rigorous series of 21 tests. These range from general exams focused on HVAC and refrigeration systems to much more specialized exams, like air distribution or oil furnaces.
These tests sometimes take multiple attempts to pass, so they're not just a formality. And once you've passed, you're not in the clear forever – you've got to get re-certified every 5 or so years. Since technology changes so frequently, the HVAC systems that someone was certified to fix a while back can become obsolete.
How Does it Help You?
NATE certification helps everyone across the board, but it's arguably the most helpful to you. When you know your technician has achieved passes the rigorous tests required for NATE certification, it eases your concerns.
Here at Freedom Air & Heat, we employ NATE-certified technicians. When you trust us to service your heating and cooling problems, you know they're trained, knowledgeable, and experienced.
Freedom Air & Heat has been serving the Cocoa area for years, and we've demonstrated time and time again why we're the premier HVAC service provider here. Thanks to our 24/7 service and unmatched customer service, you never have to worry about a sub-par experience.
Give us a call at 321-631-6886 to schedule an appointment or to speak with one of our team members today!