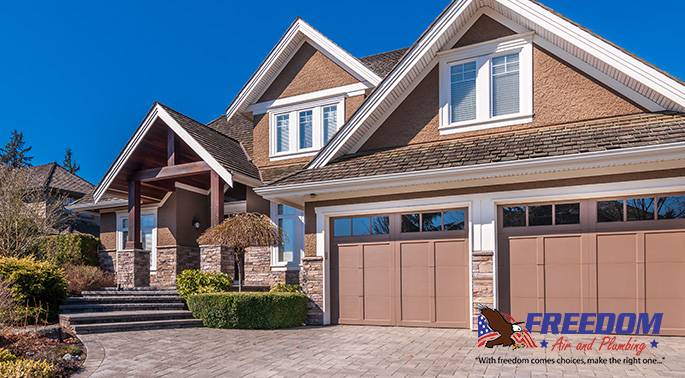 If you're considering a whole-home cleaner but aren't sure which is the best one for you, you have come to the right place! The pros at Freedom Air and Heat are here to share which whole-home air cleaner is the best!
What is a Whole-Home Air Cleaner?
Before we get started on what kinds of air cleaners are the best for your home, it's important you learn a little bit about whole-home air cleaners and how they operate.
Whole-home air cleaners purify your air by trapping any airborne contaminants and pollutants. This improves your indoor air quality and prevents allergies. Some of the contaminants in your air that the air cleaner traps are mold spores, dust, chemicals and odors.
Types of Whole-Home Air Cleaners
Below are the different whole-home air cleaner technologies that are commonly used!
HEPA (high-efficiency particulate air) air purifiers come with HEPA filters that can trap up to 99.97 % of airborne particles.
These types of air purifiers release ozone but can trap odors. Hotels commonly use ozone generators in areas with smoke to trap smoke odors.
Ultraviolet Light Air Purifiers
These air-cleaners use UV lights, which can kill viruses and mold spores that pass underneath it.
This type of air purifier is specifically good at trapping chemicals, odors and volatile organic compounds, which are released by products like adhesives, paints and aerosol sprays.
What to Look for When Choosing a Whole-Home Air Cleaner
When choosing a whole-home air cleaner, it's important to know the kind of filter you want. HEPA filters are excellent at trapping dust, pet dander and pollen. Charcoal or active carbon filters are better at trapping smoke and reducing odors. Choose a filter based on the contaminants you are dealing with.
You will need to choose an air cleaner depending on the size of your home and sizes of your rooms. If you have a larger space, you will need an air cleaner with a higher capacity.
Clean Air Delivery Rate or CADR shows the volume of clean air your air cleaner produces when it's on the highest speed. The higher the CADR, the better and more efficient your air cleaner is.
Best Whole-Home Air Cleaners
Now that you know about how air cleaners work and what to look for when you buy them, here are some of the best ones on the market!
Alen BreatheSmart Classic Air Purifier
This air cleaner is currently priced at $549 on Amazon. The Alen BreatheSmart air purifier comes with a HEPA filter and is effective in reducing airborne particles such as pollen, dust, dander and fur. It is great for family rooms and large spaces up to 1,100 square feet. In addition, it is not particularly noisy, so you can enjoy the peace and quiet you need with this air cleaner.
Coway Airmega 400 Smart Air Purifier
Priced at $541 on Amazon, the Coway Airmega is ideal for spaces up to 1,560 square feet. It comes with a True HEPA filter that can reduce up to 99% of pollutants, pollen and volatile organic compounds. One thing that stands about Coway Airmega is its "smart capabilities." Not only does it clean your air, but using a brightly colored LED ring, it shows how dirty or clean your indoor air is. Its fan speeds can automatically adjust based on your indoor air quality, though there is an option to manually adjust the speed as well.
If you're looking for a furnace mounted air purifier, Aprilaire 2410 is the one for you. Priced at $137.59 on Amazon, this whole-house air cleaner is perfect for those who suffer from allergies. It requires little maintenance and can trap up to 97% of airborne particles.
Honeywell F100F2010 Media Air Cleaner
Another whole-house air cleaner, this appliance can be mounted on the return air duct. It's priced at $185.00 and its high efficiency filter can capture particles as small as 0.3 microns.
Find the Best Whole-Home Air Cleaners with Freedom Air and Heat!
We hope this guide on the best whole-home air cleaners has been helpful. For more information, contact the pros at Freedom Air and Heat! Call us today at 321-631-6886 or schedule an appointment online!