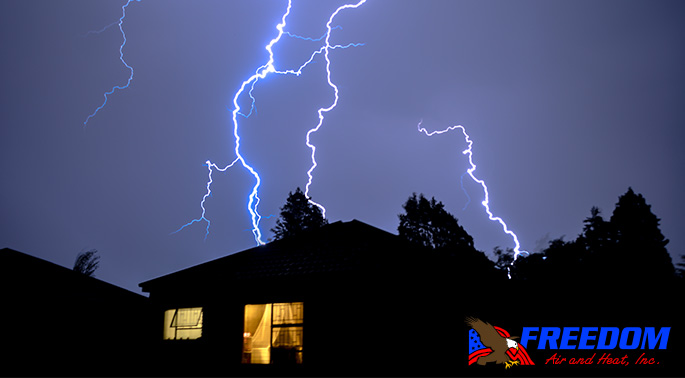 Floridians know full-well just how destructive tropical storms and hurricanes can be. Between relentless winds and torrential rainfall, a storm packed with this kind of power can wreak havoc on coastal homeowners. With the 2018 hurricane season just a few weeks away, there's no better time than now to get prepared. Follow these HVAC home storm protection tips for before, during and after a storm, to keep your family comfortable and your home safe.
Maintaining comfort amidst the outside chaos is essential. By taking precautionary measures now, you'll have the ability to think more clearly and make better decisions.
Prior to the Storm
To provide your system with the highest level of protection, you need to act before a storm hits. Here's what you should do:
Before the storm makes its way to your street, cool down your home as much as you can. Homeowners who use window AC units, make sure to unplug and remove them before completing the sealing process. Leaving the unit in your window is dangerous as high-speed winds could blow it into your home, causing damage and leaving you vulnerable.
Inspect your HVAC unit to ensure that it's firm in place, and then cover it with a tarp. Securely strap it down to prevent it from getting swept away. You can purchase tie-down straps specifically designed for this task. Next, look around the yard for debris and other objects that could damage your system if thrown about.
For added safety, consider installing whole-home surge protection. Power outages can be a devastating side effect of storms, which means all your appliances are susceptible to surges. By installing comprehensive surge protection, you'll not only protect your HVAC equipment, but your other expensive appliances too. To learn more about the benefits of surge protection, read this article from HouseLogic.
Most homeowners already know basic home storm protection tips, such as having an evacuation plan, stocking up on emergency supplies, staying indoors, etc., but it never hurts to have a refresher. Check out these essential tips from the Red Cross.
During the Storm
If a potentially devastating storm makes its way to your neighborhood, there's still work that needs to be done.
We recommend turning off the breakers to both your thermostat and HVAC system to prevent damage. For more tips on how to keep cool without AC, check out Life Hacker's "Top 10 Ways to Stay Cool Without Air Conditioning".
After the Storm
When you get the all clear, more than likely a million things are running through your head. Once the essentials have been sorted out, here are some steps you can take to get things back in order:
Visually inspect your system for signs of damage. If you locate minor to severe damage, call an expert as soon as possible. You should also check your homeowner's insurance policy to see if your system is covered.
If your system looks to be in good shape, switch the breakers back on and restart your system. We recommend completing a slow restart and monitoring along the way, listening for unusual noises. Should you come across anything along the way that doesn't sound or feel right, give us a call and we can assess the damage.
If you rely on window units to keep cool, you can now put the systems back in place. Take your time during this process as well to avoid improper re-installations.
Rest assured Freedom Air is here for you every step of the way. Dealing with the aftermath of a storm can be emotionally and physically draining. Our goal is to provide fast and effective service so that you can get back into the swing of things swiftly. For more information on our professional and trusted air conditioning services, we're just a phone call away! Whether you need us in the early hours of the morning or late into the night, we're here 24/7.