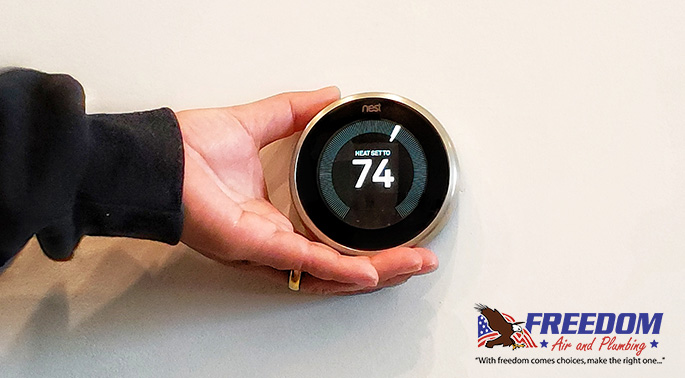 Do you want to find creative ways to reduce your HVAC unit's energy consumption? Do you want to be able to control your home's temperature more efficiently? Do you just want to change up how you operate your unit? You might want to consider investing in a smart or programmable thermostat—and the pros at Freedom Air and Heat are here to help you out!
What is a Programmable Thermostat?
A programmable thermostat is a type of thermostat that allows you to set your home's temperature according to a pre-set schedule. This feature gives you greater control than a standard manual thermostat and can be used to save energy.
What is Smart Thermostat?
A smart thermostat has the same scheduling feature of the programmable thermostat, except it allows for wi-fi connectivity. So, it is a bit of an upgrade from programmable thermostat. Wi-fi connectivity will allow you to control your smart thermostat remotely from your smartphone.
Why You Should Invest in A Programmable Thermostat/ Smart Thermostat
Now that you know what smart and programmable thermostats are, you can begin to learn more about how great they are and why you should invest in them!
One of the reasons why homeowners upgrade to a programmable thermostat is because it allows them to save energy. According to the Department of Energy, you can save as much as 10 percent on heating and cooling if you change your thermostat by 7-10 degrees for 8 hours a day. If you're using heating, you would have to bring the temperature down whereas if you're cooling your home, you would have to do the opposite. With a programmable thermostat's scheduling feature, you can try out this energy-saving method and watch your heating and cooling bills decrease!
With a manual thermostat you have to constantly adjust your home's temperature. If you decide to try out the energy-saving method we mentioned above, it would prove to be a little difficult with a manual thermostat. You would have to remember to change the setting before leaving your home, then once you returned, you would have to change it again and wait for it to get to a comfortable temperature. With a programmable or smart thermostat, you wouldn't have to deal with constantly adjusting and tampering with your indoor temperature.
If you want a simple programmable thermostat, you have that option. If you want a smart thermostat with various features, you have that option too! The market is full of a variety of thermostats with different capabilities. Thermostat features include vacation mode, wi-fi connectivity for remote control, HVAC unit maintenance reminders and even proximity sensors.
Looking for a Programmable or Smart Thermostat? Let Freedom Air and Heat help you!
We hope this guide on why you should invest in a programmable thermostat is helpful. If you want to learn more about the thermostat options available to you, get in touch with the pros at Freedom Air and Heat! Call us today at 321-631-6886 or schedule an appointment with us online!