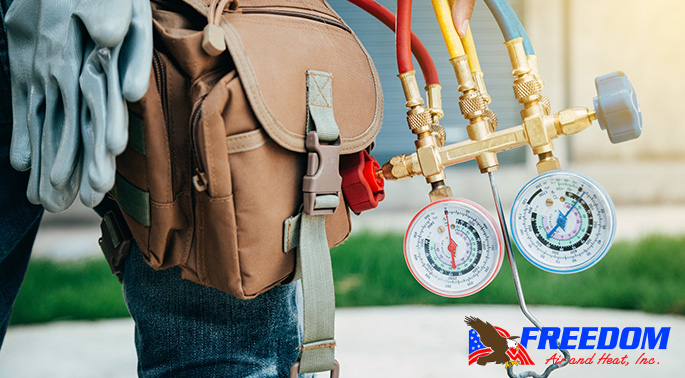 Did you know that your HVAC unit is the biggest energy consumer in your home? According to the United States Energy Information and Administration, space heating and cooling uses 14 percent and 15 percent energy respectively. That is why it is incredibly important that you maintain your HVAC system, to ensure it functions properly and does not use up energy excessively. To help out, the team at Freedom Air and Heat Inc. is here to tell you about how HVAC maintenance can save you money.
Lower Utility Bills
It might not seem significant at first, but through basic and consistent HVAC maintenance, you can lower the utility bills. One of the simplest ways you can lower energy consumption is by consistently changing your air filter every month or two.
A clogged air filter reduces the efficiency of your unit and decreases proper air flow. If clogged for long, it can lead to bigger problems such as a frozen evaporator coil—and you will have to call a professional for that. It only takes a few minutes to change your air filter. All you need is the right size replacement filter and you're good to go. However, this small act can make a big difference. According to the DOE, you can reduce energy consumption by 5 to 15 percent by simply changing your air filter.
Lower Repair Costs
By keeping your AC well maintained, whether it's through professional maintenance or on your own, you will not have to deal with high emergency repair costs. One way you can prevent repair costs is by ensuring your outdoor condenser has not been damaged. Since your condenser is a pretty vulnerable component of your unit, it's important it is inspected. Trim any grass, weeds or shrubs near it to ensure there is at least a 2 ft. clearance around your condenser.
If there is any debris that has made its way into the condenser, unscrew the grill from the top and remove the fan without stressing any electrical wires. If you see leaves or debris, carefully remove them. Then, use a damp cloth to wipe the interior surface. In addition, straighten out the fins on the exterior of the outdoor condenser. Regular tune-ups and inspections such as this can prevent future HVAC malfunctions and expensive repairs.
Equipment Does Not Need Cleaning Often
When your air conditioner is exposed to dirt and dust, it can slowly loose its efficiency over time. By not cleaning your vents and registers, not paying attention to your ductwork, by keeping your air filter clogged you risk dirt and debris reaching your HVAC unit.
You can clean your vents and registers by removing the grill covering the vent and vacuuming any dust on the grill or using a damp cloth. For ductwork maintenance, it is best to have a professional clean and inspect it, as ducts are often located in hard-to-reach places such as the basement or crawlspace. Many homeowners overlook ductwork but neglecting it can cause not only dust and debris to accumulate but pests as well. This can lead to cracks, gaps and air leaks in your ductwork. According to the DOE, leaks can add hundreds of dollars to your heating and cooling bill. With just annual tune-ups of your ductwork, you can prevent high costs.
Maintain Your HVAC Unit with Freedom Air and Heat, Inc.
Now that you know more about how HVAC maintenance can save you money, it's time to start inspecting your unit for any maintenance needs. If you don't know where to start, don't worry! The pros at Freedom Air and Heat, Inc. are here to help you out. Our team of knowledgeable and professional experts will ensure your HVAC system is working perfectly to provide the comfort that you need. To get in touch call us at 321-631-6886 or schedule an appointment on our