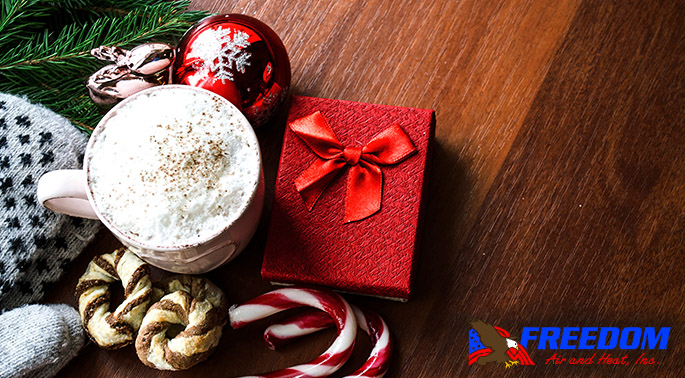 What's the best part of the holiday season? You might say that it's the lights on everyone's homes, or the festive decorations you finally get to put back up. It also might be the food you enjoy making, or it could be the wide-eyed wonder your kids get on Christmas morning.
But the true spirit of the season is found in the smaller moments. It's found in the times we can share the happiness of the holidays with others, but that's hard to do sometimes. To help you get the most of this season, here are a few ways to spread holiday cheer from the friendly folks at Freedom Air & Heat!
Volunteer!
This is one of the best ways to really make an impact this holiday season. While most of us have the opportunity to either travel to see family or vice versa, some aren't as lucky. For one reason or another, life has dealt them a wicked hand and they don't have anyone to see.
Take some time as a family to head over to your local soup kitchen, homeless shelter, or other nonprofit organization. They'd love to have a few extra hands to help spread some happiness to people who need it dearly. You'd be surprised at how much happiness lending a hand will bring you as well!
Make Something for Someone Who Needs It
Speaking of lonely folks, maybe think of someone close to you who could use a visit during the holiday season. Maybe they've moved away for college and are missing home, or perhaps some parents are dealing with an empty nest themselves thanks to school-bound kids. Whatever the case may be, there's certainly someone who could use a cheery face.
If you're a talented baker, perhaps a batch of homemade cookies or cupcakes could be just the thing they need this season. Or if you're not, then even something as simple as a handmade card from you and your kids could really make a difference to someone.
Create Gifts That Mean Something
As of late, it seems like we're told the only acceptable gifts for each other are the ones that are the biggest, brightest and most expensive. Unfortunately, that comes at the expense of our wallets, and when the next version comes out the following year, we'll forget all about the one we just got.
So, what's the best way to give something that lasts? Make it yourself. It doesn't have to be expensive or even too difficult to do in the first place, but something handmade means infinitely more than something you dropped a ton of money on.
Freedom Air & Heat: Here to Help
We're lucky enough to have a great community that really treasures each other, and here at Freedom Air & Heat, we want to keep that spirit alive. Whether you've got a tricky heating problem or want to totally revamp your air system for the year ahead, don't hesitate to reach out!
And if you've got an air issue during this holiday season, give us a call at 321-631-6886! We'll do whatever we can to help, and we'll make you feel like family no matter what job we perform.