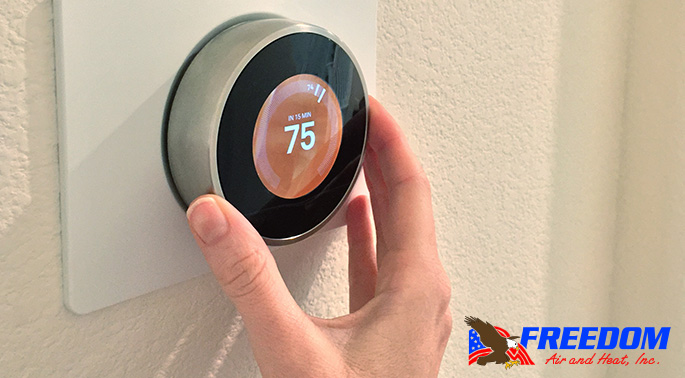 There are many sophisticated innovations in today's tech industry that don't always make your life easier. However, one of the exceptions is the new development of smart thermostats. Equipped with Wi-Fi, motion sensors, and an algorithm that facilitates long-term learning functions, smart thermostats are game-changers in the HVAC world. If you are wondering if this is an upgrade you should make, the team at Freedom Air and Heat is here to share 9 benefits of smart thermostats.
You Will Save Money by Saving Energy
The purpose of a smart thermostat is to help you save energy and money on heating and cooling. How often do you leave your AC or heating on while your home is empty? A smart thermostat eliminates that waste of energy by using motion sensors and learning your schedule and habits. Adapting settings to your schedule and adjusting to unexpected changes in that schedule with motion sensors, a smart thermostat takes all the guesswork out and makes energy-saving changes for you.
No More Re-Programming Your Thermostat
Even with a programmable thermostat, you must keep up with fluctuations in your schedule, unpredictable weather changes between seasons, and changes in your own daily habits. Because a smart thermostat has built-in learning functions and sensors, it can learn and adjust to your shifting schedule and seasonal changes, anticipating your heating and cooling needs. This capability can save you time during initial programming, and as schedules and seasons change along the way.
You Can Control Your Thermostat Remotely
Along with your smart thermostat comes brand apps that can be downloaded on various types of mobile devices. These apps allow you to check your thermostat from anywhere, as long as you have a data or Wi-Fi connection. With these apps, you can adjust the temperature if necessary, which is particularly beneficial if you are on vacation or away on business.
Tracking Your Energy Use is a Breeze
In addition to helping you save money with motion sensors and built-in learning functions, a smart thermostat also offers energy reports and saving tips. Tracking your day-to-day energy use, a smart thermostat can show you how your energy use has changed over time, how much it is likely to cost you, and tips on how to make additional adjustments to your settings to save you more money.
Better Visibility and Control of Temperatures
Featuring larger, more clearly-stylized numbers and letters, the design of a smart thermostat provides better visibility of numbers on the screen and buttons with simple interfaces that you can read at a glance. In short, a smart thermostat is easy to operate for even the most technologically-impaired of users!
You Can Pair It with Many Different Smart Devices
Another benefit of a smart thermostat is its compatibility with a variety of smart device platforms. This means you can exchange information with other home devices, such as a smart humidifier or air purifier. If they are on compatible platforms, you can control these devices with your smart thermostat.
Control Your Thermostat Settings Hands-Free
With compatibility with voice-command devices, like Amazon's Alexa, a smart thermostat can be voice-controlled, as well. Commands such as, "Alexa, raise the temperature to 70 degrees" can be implemented immediately.
Schedule Your Settings on the Easy-to-Use App
Offering app-based scheduling, smart thermostats allow you to create heating and cooling schedules directly on the app. As a result, manually entering numbers on your thermostat is a thing of the past. Furthermore, this app facilitates more in-depth temperature management from day-to-day and week-to-week.
Track the Weather with Ease
There are many smart thermostats on the market that allow you to track the latest local weather reports. With this feature, you can make suitable changes in your temperature settings during unpredictable weather changes.
Ready to Enjoy Some Benefits of Smart Thermostats in Your Home?
Allow us to lead the way! The team at Freedom Air and Heat is dedicated to helping Florida homeowners like you find the perfect HVAC solutions. If you are ready to talk about some upgrades, call us today at 321-631-6886 or fill out a service request form on our website!