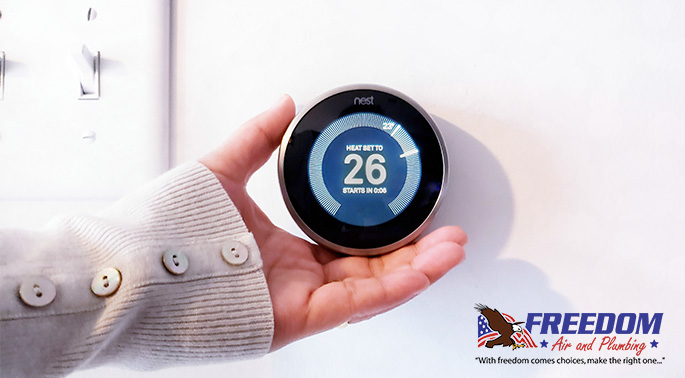 Whenever you purchase a new HVAC system, you get a warranty that can cover specific repairs and replacement of certain components or equipment. It can be very helpful to have just in case your system starts having issues in the early years of its installation. However, there are certain things that can void your HVAC warranty. Recently, some homeowners have started to wonder whether the Nest Thermostat voids your HVAC warranty. If you are one of those homeowners, you have come to the right place! The pros at Freedom Air and Heat are here to answer your questions about your HVAC warranty.
Does Nest Void Your HVAC Warranty? The Answer: Most Likely
There are several things that could potentially void your HVAC warranty. Installing a smart thermostat could most likely be one of them. A smart thermostat is essentially a more advanced version of a standard programmable or manual thermostat, because of its wi-fi connectivity abilities. While smart thermostats are great as they allow you to regulate your indoor temperature remotely, you might have to do a bit more research before you install one. If you have an older HVAC system, replacing your old thermostat with a smart one might not work with it—in fact, it might cause further damage to your unit. To prevent themselves from user negligence, some manufactures will void warranties after a smart thermostat installation.
What to Do if You Want to Update Your HVAC Unit
If you want to add updates to your HVAC unit, like a new wi-fi connected thermostat, don't do it on your own or just because you get a deal on it. Before you make any big decision like this, get in touch with an HVAC technician you trust. They will be able to suggest safe installations and improvements that won't void your HVAC warranty or cause damage to your unit.
What Else Can Void Your HVAC Warranty?
There are other things that can void your HVAC warranty that you should be aware of:
Installing Things on Your Own
If you want to install any components or equipment, be sure to hire a professional. Make sure the professional doing the installation is licensed, bonded and insured. Improper installation can not only void your HVAC warranty, but cause more problems in the future.
Lack of Annual Maintenance
Annual maintenance and tune-ups of your HVAC system are incredibly important. These maintenance checks ensure your unit is up to date, functioning properly and even energy-efficient. Be sure to keep documentation of regular maintenance—if you ever need to contact the warranty provider for service, you will need to provide this documentation.
Purchasing Off-Brand Replacement Parts
Manufacturers suggest that you purchase original equipment manufacturer parts—using off-brand replacement parts will not be good for your unit's performance.
Have More Questions About Your HVAC Warranty? Contact Freedom Air and Heat!
If you have more questions about your HVAC warranty, get in touch with the pros at Freedom Air and Heat! Call us today at 321-631-6886 or schedule a service on our website!