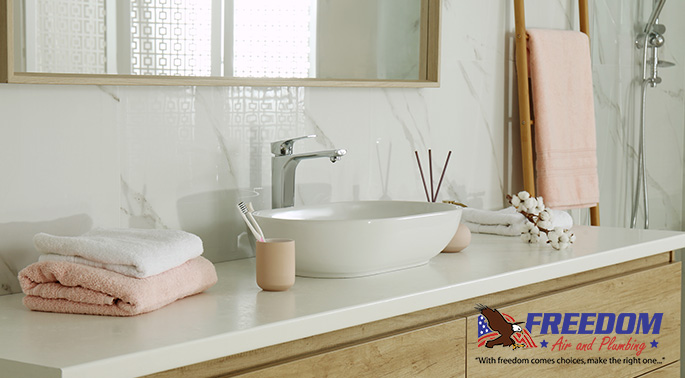 If you are planning to have any guests over for the holidays, you should know that your plumbing will be used a lot more frequently. The last thing you want is your shower leaking or your toilet clogging up when you're trying to relax and have a good time with your loved ones. To prevent this from happening, here are some tips from Freedom Air to safeguard your plumbing for the holidays!
1. Check Your Drains
Even if your shower or sink drains are not clogged now, they might eventually be with frequent usage. Instead of waiting for one of your guests to tell you that your tub is not draining right, do a quick inspection of your drains. If there is any gunk inside, you can try using a gloved hand to pull it out or fashion a small hook out of an unraveled wire hanger. You can also try the old baking soda and vinegar trick; simply put some baking soda and vinegar down the drain (if you hear hissing, you did it right). Then leave it in for an hour and follow it up with some boiling water. Your drains will be clean and gunk-free in no-time. You can also try using drain covers in the future, so there is a lesser chance for hair and gunk to get trapped in your drain.
2. Take Care of Your Garbage Disposal
If you have any parties with tons of food planned, your garbage disposal might need to be well-prepared. Make sure you don't let items like large bones, grease, eggshells and potato peels get in your disposal. These items can clog up your drain, create odors and even reduce the efficiency of your trusted appliance. To clean out your disposal so it is ready for the holidays, you can try the baking soda and vinegar trick we mentioned above. You can also manually clean the mouth of the disposal using a small toothbrush or a scrub brush designed for a disposal. To remove odors, place some lemon peels in the disposal and run it for a few seconds.
3. Prevent the Toilet from Clogging or Leaking
A clogged toilet is nasty business as it is—but it is even nastier when it happens during the holidays. To prevent this from happening, be sure to clean out your toilet thoroughly and don't flush anything that ISN'T toilet paper down the toilet—no, not even flushable wipes. If you have any kids in the house, make sure they know this rule too. In addition, make sure the flush is working properly and there are no leaks. If your flapper is old, be sure to replace it. You can also adjust the float level in your toilet to prevent water wastage.
Safeguard Your Plumbing for The Holidays with Freedom Air!
If you want to learn more about how you can safeguard your plumbing for the holidays, get in touch with the pros at Freedom Air! Call us today at 321-631-6886 or schedule a service with us online!