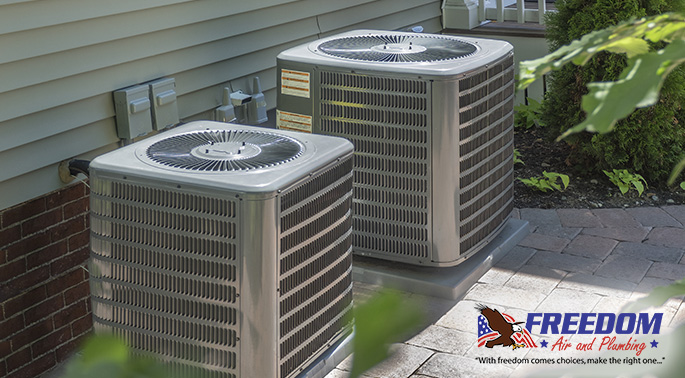 If you're one of the many Americans staying home and social distancing (which you should be), now might be a good time to start preparing your HVAC system from the Spring! Here are some tips from the pros at Freedom Air and Heat on how to get your HVAC unit ready for the new season.
1. Clean Your Outdoor Unit
Your outdoor condenser is an important component of your HVAC unit. It is where your refrigerant lines, condenser coils and compressor coils are located—any extra heat emanated from the cooling and air conditioning process is pushed outdoors with the help of the outdoor unit. The outdoor condenser is a very important piece of equipment so it's important you make sure it is clean and well-kept. If there is any vegetation growing around it, be sure to trim it and maintain a clearance of 2 ft around the outdoor unit. You can also thoroughly clean its exterior by using a brush attachment to vacuum the exterior fins, without bending any. Then wash the fins with a hose and coil cleaner.
2. Change Your Air Filter
With the new season arriving, it's important you change your air filter. It takes only a few minutes, but it makes a world of a difference. Changing your air filter can improve your indoor air quality, improve air flow and reduce your unit's energy consumption by 5 to 15%.
3. Air Seal Your Home
If you want to ensure your HVAC unit does not work overtime, you will need to air seal your home. You can do this by adding weatherstripping to your exterior doors and windows. Weatherstripping is cheap and found in nearby local home improvement stores or online.
4. Test the Thermostat
Be sure to check your thermostat and see if it is on all the right settings. Make sure it is on "auto" instead of "fan"—the fan setting allows air to blow through your vents whether your unit is going through a cooling cycle or not. If you have a smart or programmable thermostat, consider trying out some energy saving techniques recommended by the Department of Energy.
5. Clean Vents and Registers
Dusty vents and registers can worsen your indoor air quality. Take a few minutes out to clean out all the vents and registers in your home. Use a brush attachment to vacuum the grilles and follow it up with a wipe from a damp cloth.
In addition to cleaning your vents and registers, make sure you remove any furniture or other items blocking them. Blocked air vents can cause problems with temperature consistency and air flow.
Want More Tips on Preparing Your HVAC for Spring? Contact the Pros at Freedom Air and Heat!
If you want to learn more about how you can prepare your HVAC unit for the spring, get in touch with the pros at Freedom Air and Heat! Call us today at 321-631-6886 or schedule a service on our website!