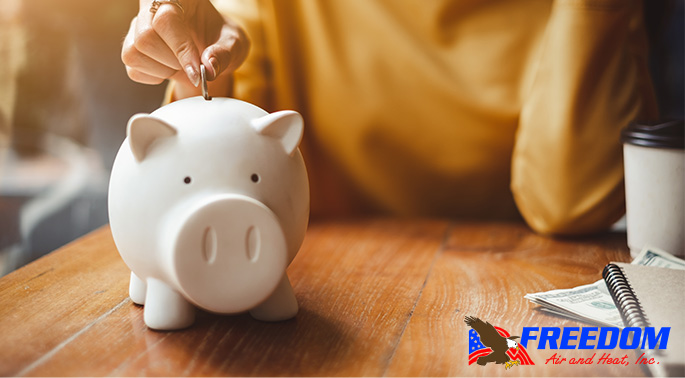 Heating and cooling are two of the highest electricity consumers in your home, so it makes sense that many homeowners want to find ways to save money on heating and cooling, specifically. If you're one of those homeowners, you have come to the right place. The pros at Freedom Air and Heat, Inc. have prepared a quick guide on how to save money on your heating and cooling bills.
Set Your Thermostat Strategically
On hotter days, you might be inclined to bringing your thermostat down to a very low temperature and on colder days you might want to do the opposite. However, it is important you keep your thermostat at a reasonable temperature. A setting that is either too low or too high might force your HVAC unit to work overtime, leading to your system running constantly without reaching the setting. Also, keep in mind that lowering or increasing the temperature does not mean that your thermostat is heating or cooling any faster.
Be a little more strategic about how you set your thermostat, by programming it to heat or cool to your liking only when you are home. According to the Department of Energy, you can save as much as 10% a year on heating and cooling by turning your thermostat up 7-10 degrees from its normal setting, for 8 hours a day. During the upcoming colder months, program your thermostat to be at a lower temperature setting while you're at work.
Seal Up Your Home
Sealing up your home is one of the best ways to save money on heating and cooling bills in addition to maintaining your AC's efficiency. By ensuring all the gaps and cracks in your ductwork, windows and doors are sealed, you won't have to worry about indoor air escaping and outdoor air getting in. Air leaks can force your air conditioner to work overtime in addition to worsening indoor air quality.
When it comes to duct sealing, it is best to get in touch with a professional as ducts are located in some difficult places around your home. For your windows and doors, you will need to replace any deteriorated weatherstripping, which you can purchase from any nearby home improvement store.
Three Words: Change Your Filter
HVAC technicians emphasize changing your air filter because it is one of the easiest ways you can improve the efficiency of your HVAC unit. By frequently changing your air filter (ideally every month or two), you are protecting your unit from any dust or debris. In addition, you are reducing your HVAC system's energy consumption by 5 to 15%. A clogged filter can lead to worsened air flow and frozen evaporator coil. Take a few minutes to change your filter to avoid any costly problems in the future.
Use Ceiling Fans on Hotter Days
During hotter days, you can increase your thermostat by 4 degrees and turn on the ceiling fan in the room you or your family member is occupying. By raising the temperature and running the fan, you can use less energy from your HVAC unit. Fans create a windchill effect on your skin so you can feel a little cooler. Since fans cool people, not rooms, only use them when you're in the room. Otherwise you will just be wasting energy.
Consistent Maintenance
By getting your HVAC unit tuned-up annually, you will save yourself a lot of costly problems and repairs in the future. By having an HVAC technician you trust inspect your unit you can tackle any issues from the beginning rather than letting them drag on for longer periods. 
Save Money on Your Heating and Cooling Bills with Freedom Air and Heat, Inc.
We hope this list of ways to save money on heating and cooling is helpful. If you have more questions about being an energy-efficient homeowner, get in touch with the pros at Freedom Air and Heat, Inc. Our team of experts have been serving the communities of Brevard and Indian River counties with professionalism and top-notch service. Call us today at 321-631-6886 or request a service on our website!