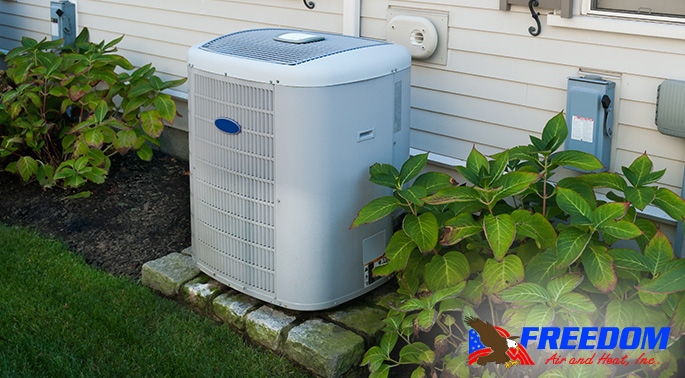 HVAC units are a necessity for Florida homes. Unfortunately, this very necessary home appliance is not at all attractive. Trying to incorporate your HVAC unit' condenser into your landscape design is difficult. That's why the Freedom Air team is here.
As experienced HVAC technicians, we have seen all the ingenious ways homeowners have concealed their AC units or incorporated them into their landscaping. Here are some tips and tricks we've noticed.
River Rocks
River rocks are not only an attractive way to incorporate your condenser into your landscape design, but also a smart one. First, laying down river rocks will give your unit breathing room. If plants closely border your AC unit, bugs and critters can jump from the plants to your unit, and eventually cause damage. River rocks make it harder for bugs to make your unit their home.
Secondly, placing river rocks on the ground will prevent plants from growing. In other words, if you place river rocks around your AC unit, you won't have to worry about constantly cutting back the vegetation that grows around the condenser.
Symmetrical Beds
If your front or side yard has many symmetrical flower beds, consider making your HVAC unit into one. Simply put mulch or dirt around the perimeter of the unit, then enclose it with brick, or metal edging.
Fence It
Many homeowners choose to conceal their HVAC unit with a latticed fence. This is a great way to remove an eyesore from your landscaping. However, be sure that the fence is at least a foot away from the unit, and that it has enough slats to enable airflow. If air cannot flow freely around your AC unit, you could be putting strain on the condenser fan.
Ample Vegetation
Yet another way to conceal your HVAC unit is with ample vegetation. Instead of limiting the landscaping around the HVAC unit, consider increasing it! As long as you leave ample space around the unit itself, plants, shrubs, and trees are a fantastic way to conceal your condenser.
Full Coverage
HVAC units aren't pretty. If you really don't want to see your AC unit, consider completely covering it in a shelter. You can purchase a shed to cover your unit with, or make one yourself using stained wood, plastic, or metal. Remember, it is important to have easy access to your HVAC unit. So, be sure to install a door, sliding panel, or something similar so you can maintain your unit when necessary.
Mini Shed
Want to take advantage of the space already taken up by your HVAC unit? The covering for your unit can double as a shed for lawn tools! Instead of covering just your HVAC unit, expand the size of the structure and make it a shed for rakes, spades, weed whackers, and more!
Iron Trellis
Interested in concealing your HVAC unit with plants, but worried their growth will get out of hand? Invest in an iron trellis and a few climbing plants to conceal your unit. Climbing vines and plants are easy to manage, and they make effective, thick coverage.
How to Make Your HVAC Unit Part of Your Landscape Design
Just because your AC unit' condenser is out of sight, don't let it be out of mind. HVAC units need annual maintenance, and fall is the perfect time to schedule an appointment. Freedom Air technicians are NATE-certified and have years of experience and expertise. We proudly serve the Brevard and Indian River county areas. Call us today at 321-631-6886 (Brevard). 772-778-2272 (Indian River), or request service on our website.