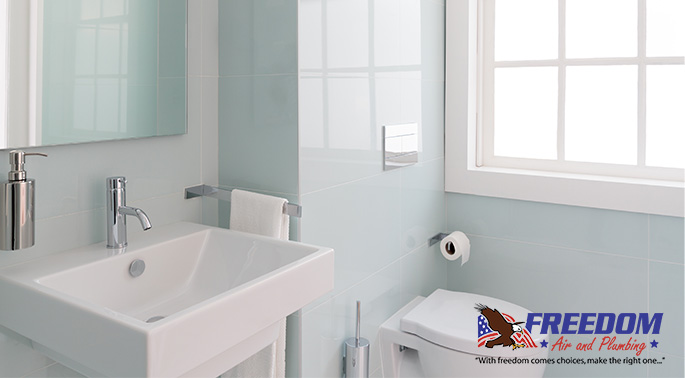 Having energy-efficient plumbing can lead to a lower water bill and a better, smoothly functioning plumbing system. That's why the pros at Freedom Air and Heat are here with some tips on how you can go green with plumbing!
1. Consider Products Approved by ENERGY-STAR
Energy Star is a program run by the Environmental Protection Agency, encouraging homeowners to be more energy efficient. This program also recommends certain products, based on their energy saving abilities, with several products ranging from shower heads to dishwashers having the energy-star label. If you want plumbing fixtures that make your plumbing system "greener", consider popping over to the Energy Star website and scrolling through their energy-efficient product list. Energy Star certified homes can be at least 10% more energy efficient than homes with standard fixtures and products.
2. Install Low-Flow Fixtures
Certain toilets and faucets tend to be more wasteful. That's why you should consider replacing them with low-flow fixtures, which can save you more water and money. According to the Department of Energy, you can purchase new quality low-flow shower heads and faucets for up to $20 a piece and achieve water savings of 45-60%. Low-flow fixtures have an affordable upfront cost in addition to offering long-term savings—it's a win-win!
3. Fix Leaks
According to the Environmental Protection Agency, the average household's leaks can account for 10,000 gallons of water wasted. That's why it's important to fix these leaks as quickly as possible because they can waste water and spike up your water bill over time. Most of the time, these leaks will be found in three places; the toilet, showerhead or your faucets. If your toilet is leaking, try replacing the flapper, which is the seal found in your toilet tank. For your faucets, replace the washers, gaskets or O-rings. Lastly, if your showerhead is leaking, tighten the showerhead to the stem and add Teflon tape for extra security.
4. Replace Old Products
Over the course of a plumbing fixture's life, normal wear and tear is expected. Once or twice, your toilet or dishwasher might have an issue such as a clog or a small leak. However, if you find these problems becoming more frequent, you might need to consider replacing them. Take into account how old these fixtures are. For example, if your water heater is more than 15 years old and it's causing issues like rusty water, you might want to replace it. If you continue with old products, they will require several expensive repairs over a short period of time. While newer products will have a high upfront cost, they might save you money over time!
Want More Tips on Energy-Efficient Plumbing? Contact the Pros at Freedom Air and Heat!
If you want to learn more about how you can go green with plumbing, call the team at Freedom Air and Heat! You can reach us at 321-631-6886 or schedule a service with us on our website!