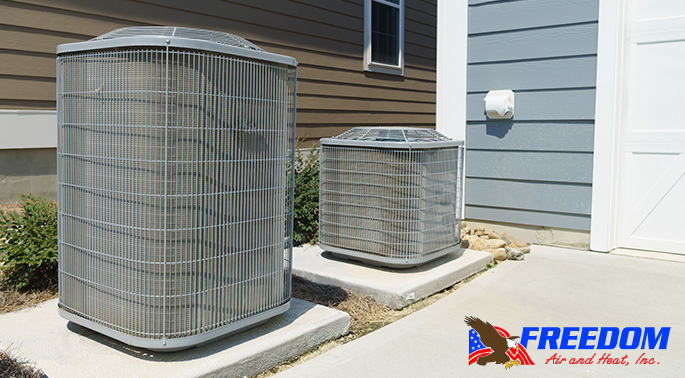 Ever walk in your home after a few hours outside and notice a funny smell? You reach for the candles and the air freshener, but after a few days, your home still doesn't smell right. Chances are, your HVAC system is the problem.
The HVAC experts at Freedom Air, have seen this issue time and time again, and are here to help.
What causes HVAC odors?
If you smell musty, foul odors, these HVAC parts could be the source.
The evaporator coils of your HVAC system are the site where warm air becomes cool air, and where the humidity of your home is reduced. In other words, evaporator coils are the ideal cool, damp environment for the growth of mold and mildew. Air that passes through a moldy evaporator coil will smell musty and foul.
Your air filter collects dust, dander, particulates, and even bacteria. If you neglect to change your filter regularly, these particles will make your air have a foul scent.
If your air filter isn't cleaned regularly, those un-trapped particulates and bacteria will accumulate in your ducts. And, if your ducts have gaps or breaks, moisture from your roof or crawl space could enter and encourage the growth of mold and mildew.
How to Eliminate Odors Caused by Your HVAC System
There is an array of solutions available to you to reduce HVAC odors.
While it doesn't address the root of the problem, ventilation will reduce the odors in your home immediately. By simply opening a few windows you can diminish HVAC odors until you are able to address the source of the issue. To learn more about ventilation, check out this article.
If you haven't changed your filter in three months, it's overdue for a replacement. Turn off your HVAC system, then find and replace your air filter. If this does not reduce the odors in your home, it is probably time for a professional system cleaning.
Professional System Cleaning
A technician should clean your HVAC system annually. A professional cleaning of an HVAC system's coils, ducts, and drain line ensures no mold, mildew, or moisture is collecting, and that your system is functioning efficiently. For most homeowners, a professional cleaning will resolve any odor issues.
Invest in an Air Purifier
If you have cleaned the air filter, drain line, and evaporator coil, and the problem of odors in your home persists, it might be time to invest in an air purifier. Both stand alone and whole-home air purifiers are available on the market today. Whole-home air purifiers are highly effective and can remove up to 99% of all bacteria in your home's air, as well as allergens, odors, and particulates.
There are a few habits your family can change that will reduce and prevent odors from permeating your home. These are effective preventative measures any homeowner can take.
Turning on exhaust fans when cooking and showering will direct humidity out of your HVAC system to the outside air.
Switching to natural cleaning products instead of chemical cleaning products will reduce the amount of toxic fumes in your indoor air.
Finally, increasing the frequency with which your home is cleaned, vacuumed and washed will help keep contaminants and particulates at low levels.
Have odors caused by your HVAC system? Call Freedom Air today!
Don't tolerate foul odors in your home, take action and call an HVAC professional. Freedom Air serves the Indian River and Brevard area with expertise and compassion. Call us at 321-631-6886 (Brevard), 772-778-2272 (Indian River), or schedule an appointment online.