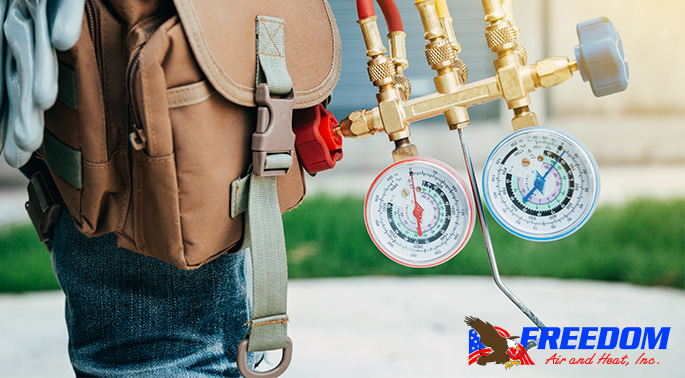 When you hire someone to paint your home, it is easy to see the quality of their work: it's on the walls of your friends' and neighbors' homes. On the other hand, it's nearly impossible for a non-professional to assess the quality of an HVAC system.
Choosing a company to repair or replace your HVAC system is one of the most difficult tasks you'll face as a homeowner. That's why the expert technicians at Freedom Air have assembled this guide to help you find the best HVAC company in Indian River.
Certified Experience
Just because a technician has a lot of experience doesn't mean they'll do a good job installing or repairing your HVAC system. HVAC technology advances every year, and if your technician's education isn't up to date, their years of experience doesn't matter. The NATE (North American Technician Excellence) Certification is earned by technicians with up-to-date education and experience. It is an endorsement of a technician's ability to keep up with changes in the industry. If a company has NATE certified technicians, you can be confident you will receive competent service.
In-Person Home Evaluation
There are a huge number of factors that an HVAC technician must consider when installing your system. They must evaluate the thermostat, ducts, insulation, window placement, temperature registers, filter type, vent placement, and a dozen other things. If an HVAC company offers to do an evaluation or estimate on the phone, you should probably hang up. It takes an experienced professional looking at your home in person to get an appropriate estimate.
However, just because an HVAC technician pokes around your home, it doesn't mean they're doing an adequate inspection. A good technician will walk all around your house, survey your crawl space, and look at your attic.
Selling Old Goods
Each year HVAC units and materials become more efficient and more effective. Newer models are the most cost-effective options available. So, if an HVAC company attempts to sell you older unit models, you should be suspicious. Chances are, that company is simply trying to offload old inventory.
Bargain Buy
Good HVAC units are expensive. If a company is selling a bargain unit, look before you leap. HVAC units are complex systems composed of hundreds of interconnected parts. When someone skimps on the quality of those parts, the lifespan of the unit is severely limited. Bargain buys could be sold by unlicensed, inexperienced individuals looking to make a quick buck.
How do you protect yourself from unwittingly buying a low-quality HVAC unit? Get quotes from a few HVAC companies. Additionally, know that quality units cost $6,000 to $12,000 for the system and labor.
Financing Offered
How and when a company asks for payment is a clear indication of reliability and quality. A reliable HVAC company will walk you through when and how much you will be paying for a unit and its installation.
Great HVAC companies also offer financing. HVAC units are one of the largest investments you'll make in your home. The best way to afford this investment, while ensuring that your family gets the best in heating and cooling, is with financing options.
Looking for the best HVAC company in Indian River? Look no further than Freedom Air!
We hope this guide has been helpful in your search for the best HVAC company in Indian River. If you need HVAC service, replacement, or repair, contact Freedom Air today! We are a family owned and operated HVAC company that serves the Indian River and Brevard, Florida communities. Our NATE certified technicians are leaders in professionalism and HVAC knowledge. Call us at 772-778-2272 (Indian River), 321-631-6886 (Brevard) or schedule an appointment online.