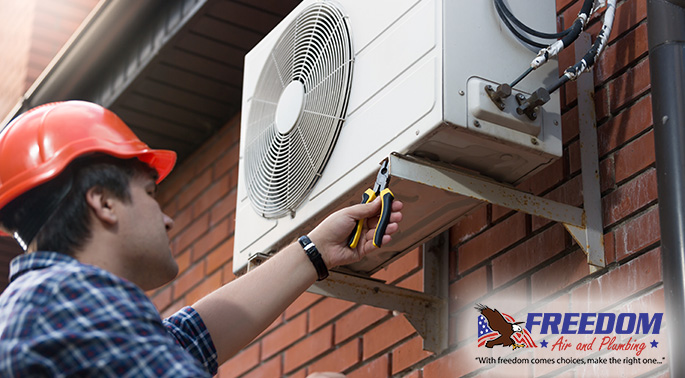 It has happened; your AC has had a malfunction that you can't fix on your own and you have had to schedule AC repair. However, you can't just hire any HVAC contractor—you need to know the details about how they operate and what services they offer. And once you do choose an HVAC contractor, you should have additional questions for them about AC repair and maintenance. If you're not sure what you should be asking HVAC technicians, check out this guide by Freedom Air and Heat listing the questions you should ask during AC repair.
1. Before You Hire: Any Special Offers?
Before you hire an HVAC contractor take a look at their services and their special offers. Many contractors have discounts and coupons that are often limited time only. If you can't see anything on their website, give them a call and ask about their financing options. Not only do contractors offer discounts, they also provide maintenance plans that significantly lower the cost of certain services. Be sure to take full advantage of these offers.
2. Before You Hire: Are They Taking Precautions?
During the recent spread of COVID-19, it is very important that we take safety seriously. That is why you should ask your HVAC contractor about the safety precautions they are taking. Have they changed their hours of operation? Will technicians be wearing masks and gloves? These are some of the questions you should be asking to ensure both your family and the HVAC technicians are safe.
3. Before You Hire: Are They Licensed, Insured and Bonded?
You'd be surprised at how many HVAC scams are out there. To prevent yourself from running into any of these scams, ask if the technicians are licensed, insured and bonded. You can also check for reviews online to ensure your HVAC contractor is the real deal.
4. After Hire: Any Warranties?
Like all appliances, your AC will suffer problems that will require repair or even further repair. That's why it's important to inquire about any warranties to ensure that there is no additional financial strain put on you, should the repair job fail.
5. After Hire: Do They Have Any Maintenance Tips?
It's important to ask your technician about the ways you can maintain your air conditioner on your own. Most, if not all, technicians will be happy to offer you some tips on tuning up your AC. Maintaining your air conditioner prevents expensive repair jobs, high energy bills and bad indoor air quality. It ensures all components of your air conditioner are working properly so that your family can remain comfortable year-round.
Need Top-Notch HVAC Services in Brevard and Indian River Counties? Contact Freedom Air and Heat!
Our N.A.T.E. certified technicians provide high-quality HVAC repair, maintenance and installation services. If you have any questions or concerns, call us today at 321-631-6886 or schedule a service with us on our website!