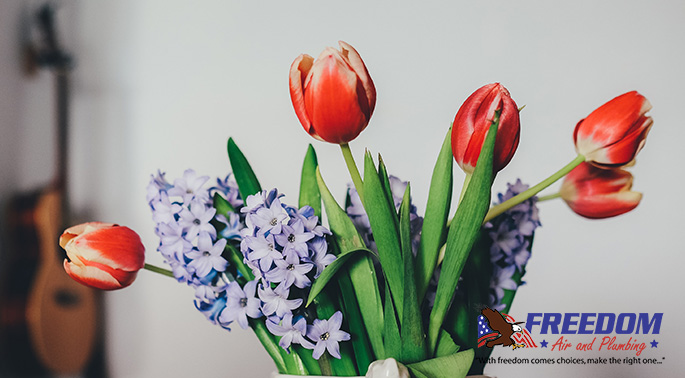 If you are one of the many homeowners working from home during this time of social distancing, you're probably exposed to several indoor allergens like mold spores, dust mites and pet dander. That's why it's important to find easy but effective ways to ensure you have better indoor air quality. To help you out, the pros at Freedom Air and Heat have prepared a list of healthy hacks for cleaner air!
1. Reduce Moisture in Your Air
Mold is a common allergen that can build up in areas where there is heavy moisture and humidity. That's why it's important to reduce your home's humidity to ensure mold spores don't have the opportunity to spread. Here are some ways you can lessen indoor humidity:
Leaks can not only lead to moisture build up; they can also increase your water bill. According to the Environmental Protection Agency, the average household leaks can account for 10,000 gallons lost per year. Prevent your water bill and indoor humidity from increasing by ensuring you don't have any leaks—be sure to inspect your toilet, showerhead, faucets and dishwasher as leaks are most common here.
Believe it or not, having many plants inside your home can lead to an increase of indoor moisture. Either move them outside or cover the soil using rocks or stones.
If you don't wipe down your sink after using it, mold can easily make its way in or around it. Take a minute to use a hand towel to wipe your sink after you use it.
2. Clean Your Sheets
Make sure you wash your bed sheets as dust mites can accumulate in them over time. Exposure to these dust mites in your sheets can cause allergies as well as problems for your skin and hair. Wash your sheets every week or two weeks and make sure you do so in a hot water cycle, as hot water will do a better job of getting rid of bacteria and allergens.
3. Groom Your Pet
Grooming, washing and brushing your pet is not only good for you, but healthy for your pet. How often you thoroughly groom them depends on their coat and fur type; if they have a heavier coat, you'll them groom them frequently. This can lead to a cleaner home and prevent pet dander from worsening your indoor air quality and causing allergies.
4. Clean Your Vents and Registers
Vents and registers can accumulate a lot of dust overtime, so it's important to clean them out occasionally. Use your vacuum's brush attachment to clean the dust from your vent's grille and follow it up with a wipe from a damp cloth.
Want more healthy hacks for cleaner allergen-free air? Get in touch with the pros at Freedom Air and Heat! You can call us today at 321-631-6886 or you can schedule a service with our technicians on our website!