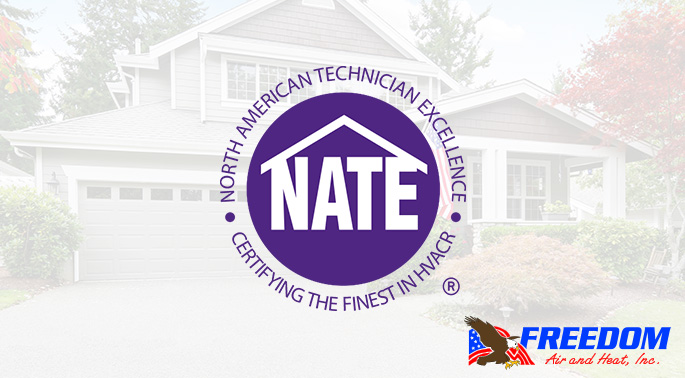 Have you ever wondered what it takes to become a certified technician for HVAC systems? At Freedom Air and Heat, we employ top notch technicians who are certified with North American Technician Excellence (NATE). NATE is the largest non-profit certification organization for HVAC technicians in the nation. According to the NATE website, "NATE certification tests represent real working knowledge of HVACR systems and are designed to allow you to be certified in specific knowledge areas." The website also states that in a recent American Home Comfort Study, 94% of homeowners prefer a certified technician to handle their repairs and installations.
There are several different types and levels of NATE certification based on industry experience. Technicians earn their certification by demonstrating their expertise on exams. To become classified as NATE certified, you must pass the Core exam and one Specialty exam with a score of 70 or better. Areas of competency on NATE exams are developed by industry experts from across the nation.
Entry Level & Early Career Certifications
For technicians who are entry-level or have less than one year of experience, there is a Ready-to-Work exam for entering the field, and a HVAC Support Technician exam for testing fundamental skills.
Ready-to-Work Certification
To achieve Ready-to-Work certification, new technicians are tested over subjects like safety, basic heat transfer, tools, components, and measurements.
HVAC Support Technician Certification
The HVAC Support Technician certification requires more in-depth knowledge of basic electricity, system components, installation, and measuring temperature and humidity. Technicians must also prove their competency in algebra, geometry, chemistry basics, and simple mechanics since they will need these fundamentals when troubleshooting and installing HVAC systems.
Professional Level Certifications
After two or more years of experience working in the HVAC field, technicians can earn certification in one or more specialty areas. These specialty certifications include:
Air Conditioning Installation/ Air Conditioning Service
Air Distribution Installation/ Air Distribution Service
Heat Pump Installation/ Air Distribution Service
Gas Heating Installation/ Air Distribution Service
Oil Heating Service
Hydronics Gas Service
Hydronics Oil Service
Light Commercial Refrigeration Service
HVAC Efficiency Analyst
Installation technicians are responsible for preparing installation sites, removing existing HVAC systems, and assembling new systems.
Service technicians perform all of them same functions and skills as installation technicians, but with additional responsibilities. They take readings of existing HVAC systems and evaluate where or not they are operating adequately. They then diagnose the causes of poor performance in an HVAC system and take the necessary steps to correct the problems.
Units that are serviced or installed incorrectly can waste energy and raise the cost of your electric bills. When a NATE certified technician arrives at your door, you can rest assured that they are knowledgeable on industry standards and will handle your HVAC installation or maintenance with professionalism and ease. We are proud to employ NATE certified technicians at Freedom Air and Heat.
If you are looking for dependable service when your HVAC needs repair, call Freedom Air. Schedule service 24/7 for Cocoa/Merritt Island/Rockledge at 321-631-6886, Titusville/Mims at 321-264-7255, Melbourne/Palm Bay at 321-727-9969, and Sebastian/Vero Beach at 772-778-2272.