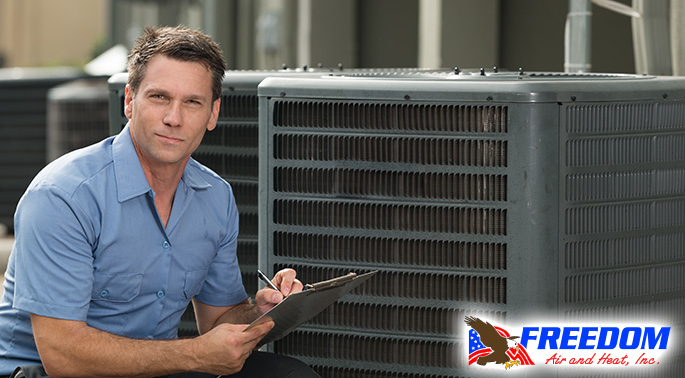 Having the convenience of modern AC in our homes is one of the many advantages we enjoy by living in the age we do. Few things are as great as getting home, cranking the temperature way down and feeling the blast of air hit us as we take refuge from the heat outside. Unfortunately, sometimes disaster strikes and the AC goes out – either it breaks, or some other factor has led to it not being able to function as intended. Not many things are as annoying as this, because you've got to ring up your service provider and schedule a time for them to come take a look at it, and who knows how long that'll be?
However, we've got a solution. By becoming a member of Freedom Air & Heat's Priority Service Club, you'll receive countless benefits that'll be there for you in your time of need – ones you wouldn't otherwise receive as a regular customer. For less than a dollar a day, you'll never have to worry about an inopportune moment striking again!
1. Preventative Maintenance
When you sign up for our Priority Service Club, you're automatically going to receive a free yearly inspection of your HVAC unit. By doing this, a technician will be able to spot any potentially problematic issues going on, but he'll do it well before these things become too serious. Fixing these complications in advance will not only optimize your unit for the long run, but it'll save you from suffering any catastrophic breakdowns when you can least afford it.
2. Money-Saving Machine
This sort of piggybacks off the last point, but the Priority Service Club is a foolproof way to make sure you keep extra money in your pocket and avoid unnecessary costs. As we said, preventative routine maintenance helps you avoid larger-scale problems, meaning you spend less on repairs.
When Freedom Air & Heat optimizes your HVAC unit, you'll soon notice a marked improvement in how your home's airflow operates. The cooling will be more efficient, and you'll spend up to 20 percent less on your unit's operating cost because it doesn't have to work as hard anymore.
3. Peace of Mind
The benefits of becoming a Priority Service Club member aren't strictly financial, though. When you join, you'll receive one after-hours service call and a normal-hours service call in addition to automatically being guaranteed a same-day appointment, as well as being bumped up to number one on the priority list. You never have to worry about being stuck with a disaster on your hands and nobody to call, because we'll be right there for you!
Of course, these aren't the only benefits to joining Freedom Air & Heat's Priority Service Club. In addition to the ones we've outlined above, you're also going to be receiving the best service in the Cocoa area. Whatever happens, we'll be there with a smile on our face and a no-nonsense attitude, meaning you're always going to get honest, straightforward assessments and suggestions.
To learn more about what you've been missing out on, give us a call a 321-631-6886 today. You won't regret it!