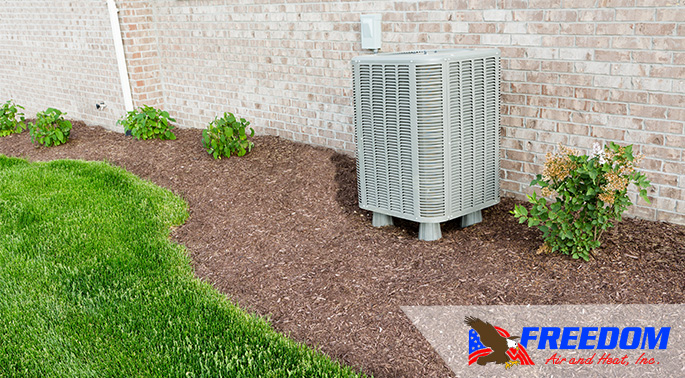 HVAC units aren't exactly attractive, but they're essential to home comfort. If you feel like your system is an eyesore and detracts from the rest of your landscape, there are some steps you can take to beautify the surrounding area. When deciding how to enhance the space around your system, it's important to keep in mind that functionality is key. Your AC unit needs space to run properly. We've put together some HVAC landscaping tips to help you maintain comfort while also boasting an immaculate lawn.
Build a wrap-around fence or a wall
A simple fence around your HVAC unit can do wonders for your yard, not to mention it can also improve efficiency. If your fence is built in such a way that it provides a bit of shade, your unit will operate at a lower temperature, thus saving energy. If you don't want to build a wrap-around fence, you can instead opt for a small wall that blocks the view of your system. Regardless of which border you choose, make sure to give your unit the appropriate space. A good rule of thumb is to give your unit a 2-foot clearance.
If you're installing a fence around your unit, make sure to allow access to it so that your HVAC technician can easily enter and perform any necessary repairs.
Strategically place plants and shrubs
 Similar to fencing, with the right plants and shrubs in place, you can lower energy costs. You'll want to choose a plant that provides maximum shade for your unit. Keep in mind that your AC needs a clearance, so you will have to keep your plants trimmed. Further, make sure there's a clearance of about five feet on the top of your unit. If leaves and twigs were to get caught in your system, it could lose efficiency or breakdown. We recommend planting trees that retain their leaves during winter, such as live oaks or magnolias. Of course, you can also check with your local nursery to see what they suggest. For more tips on planting around your AC system, check out this article from Trane.
Add stones or gravel around your unit
Loose soil and sand around your unit can damage your AC system. A simple and effective way to prevent breakdowns caused by soil and sand is to swap it out with gravel or stones. By adding a border around your unit, you'll also help keep rain water and foliage at bay. If you choose this route, make sure the rocks are kept in place. If you have kids or pets that like to dig or throw rocks about, check your lawn for strays before you mow the lawn. The last thing you want is a busted window or a damaged cooling system.
There are plenty of how-to videos out there that you can watch, but this one is among our top favorites because it adheres to the clearance guidelines – and it's short and to the point.
If you have any questions along the way, don't hesitate to reach out to us. Our professional team has the expertise to help you achieve your vision. And of course, we can also address all your HVAC repair, replacement and service needs. To learn more about our services or to schedule your next appointment, give us a call at (321)-631-7886 or (772)-778-2272.